The Lightning steadily gained popularity in the post-war years. By the late 1950s, the class was the largest one-design class over 16 feet in length, with over 8000 boats registered worldwide. With the advent of fiberglass construction, growth of the class persisted. By the time of the 30th Anniversary Regatta in 1968, 11,000 boats had been built. The Lightning has survived against the proliferation of inexpensive, modern competitors by adopting technological advances at a pace reasonable enough to advance the design without making obsolete the thousands of boats still enjoyed all over North America and the world. Today, with some 15,000 boats built, the Lightning class is still one of the largest, most active sailboat classes in the world.
In 1968, and every ten years since, Skaneateles has welcomed the Lightning class home for the 30th, 40th, and 50th anniversary regattas. This year, the Skaneateles Country Club will host the 60th anniversary regatta. Each previous event has been a celebration of one of the most enduring one-design classes in the world. Each anniversary regatta has presented an opportunity for all aspects of the Lightning family, as originally envisioned by the Barnes¹ and Stephens¹ firms, to be realized. Experienced racers, sailing families, and casual cruisers will all come out to enjoy their boats and one another¹s company.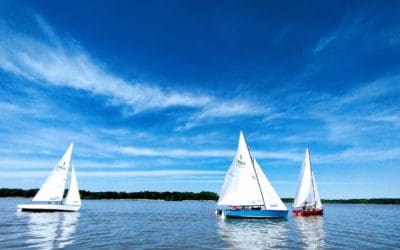 Arkabutla Lake, Delta Sailing Association, May 30, 2021, Report by Ruby. Memorial Day weekend was the official kickoff to the DSA 2021 sailing season.
read more