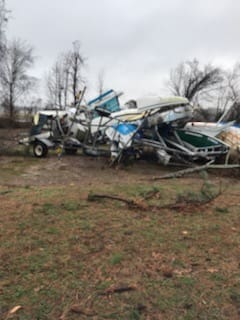 The National Weather Service confirmed it was an EF-1 tornado with winds estimated at 100 mph that hit the area southwest of Hernando, MS before sunrise on Saturday, January 11, 2020.
No lives were reported lost in this tornado but damage to houses in the Love community on Hwy 51 and on Robinson Gin Road was extensive. In addition, after it left the surface of Lake Arkabutla, the tornado apparently touched down in the midst of the Delta Sailing Association's lot at Hernando Point. Large boats over 20′ were pushed around or tipped over while many of the smaller boats were flipped or sent flying to different places on the lot. A large stack of boats were piled three high in the center of the lot. Many masts were snapped and significant fiberglass damage was sustained in many cases and several boats were outright destroyed.
Over two dozen DSA members showed up on Sunday, January 12 to help untangle the mass of boats, right trailers and get boats back on trailers. Only one 3,000 pound boat will require a crane to right it. Snapped masts occurred to a significant percentage of boats on the lot. Those members who turned out deserve a lot of credit for their efforts.
There is a well of knowledge on boat repair and maintenance among DSA members as many owners have previously gone through the experience of ordering new masts, doing fiberglass repair, finding specialist to do some of the work, and getting a damaged boat sailing again. This knowledge is a resource that many members with damage to their boats should seek out and tap to get their boat sailing again. Sailors are always willing to talk boats and share experiences, so newer owners should not be shy about asking other owners for help and links to resources. The DSA's Annual Banquet February 6 at the Butcher Shop in Germantown will be the first big gathering where boat repair will be the hot topic.